Bill Utter Ford - A Family Tradition Since 1956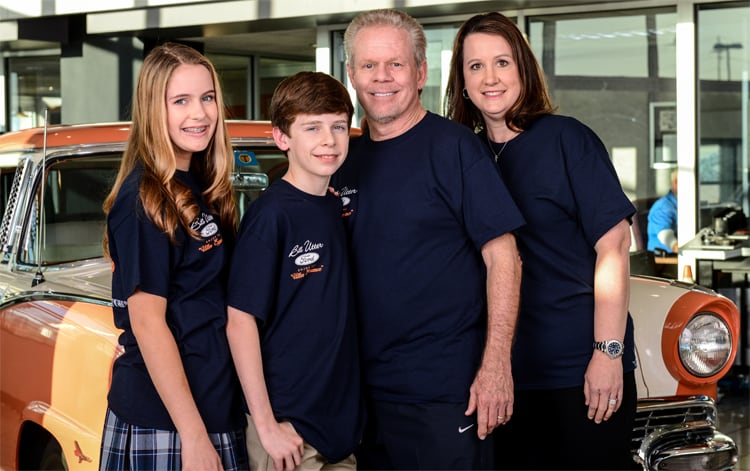 Monica, Trey, Bailee & Bill Utter, Jr.
Bill Utter Jr. was 14 when he started working at Bill Utter Ford. With his new driver's license, Bill began delivering parts
for the family dealership. 
  Bill and Virginia Utter opened the doors to their new Ford dealership in 1956 in downtown Denton. It was the beginning
of a family tradition of offering the best Ford products and services to North Texas families.
                                 In the early days, they were simply concerned with making ends meet from day to day and treating each customer with courtesy and respect, as they would any friend. Many of those customers became lifelong friends, and the business grew from one referral to another to serve generations.
Many years later, Bill Utter Jr.'s dedication to his parents principles has made Bill Utter Ford one of the most respected names in North Texas. Bill Utter Ford has always treated customers and employees as family. Many of the
dealership employees
have worked with the Utter family for decades, a direct reflection of the "family atmosphere" the Utters have fostered from the very beginning.
What differs today from 1956? Ford's designs and technology have changed, but at heart, Bill Utter still remains the same as it was in 1956. Bill Utter Ford prides itself in being Deal Country USA. Always offering the best deals,
service
and
inventory
in Texas. From finding you the most affordable vehicles, parts and accessories to securing the lowest financing rates, Bill Utter Ford won't let you down. If you're looking to purchase a new or pre-owned certified vehicle, you can bet that you'll drive off the lot in your dream car, truck or SUV, with more money still in your bank account than any other dealership. The family Bill Utter Ford invites you to stop by and experience the difference a family-owned and operated dealership can make.